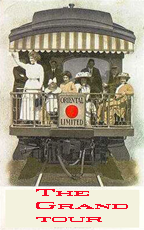 After the 2011 OSW I've added a two more layouts from bay area to the list below and plan to add more in the future after each meet.
2010 the O Scale National convention was held in conjunction with O Scale West in Santa Clara CA. A novel part of the convention was the Grand Tour. The Grand Tour was many O scale layouts scattered about the West that were open for conventioneers driving to or from the Meet.
My thought is this would be a good place to show pictures of other layout's I've visited. In the interest of privacy, I'm just using the owners first name and an initial for the last name. I've also added pictures from the Chicago March Meet. If the name is not underlined, I have no pictures yet. More layout pictures may be found on the Friends page.
Duane D models the Great Northern and Northern Pacific
Jim H models the SP in proto 48
Jerry G also models the SP
John H models the WP, SF and SP in Central Calif
Rod M models SP in Eastern Nevada
CVOS - the Central Valley O Scalers have a wonderful club layout
Kyle P models the Great Northern
John R a former railroader, models the Rock Island
Gary S models the ATSF and SP
Home GNlines OSW About Me Layout Models Articles Artwork friends Links