For the most part, may of these models may not be geared to the collector. They were purchased for my layout not for display on a shelf. There are several models which are in mint condition - unpainted, unused, and I am original purchaser. Only these models are described as mint.
Almost all of the other unpainted models were custom painted and weathered to suit my modeling needs. Often the tenders were swapped. After switching to O scale in 1980, they were packed away until 2010 when I contemplated switch back to HO. At that time, all were checked. Several had developed cracked plastic gears and were regeared with NWSL gearboxes. After seeing the difference several of the more noisy mechanisms were replaced with new Gearboxes.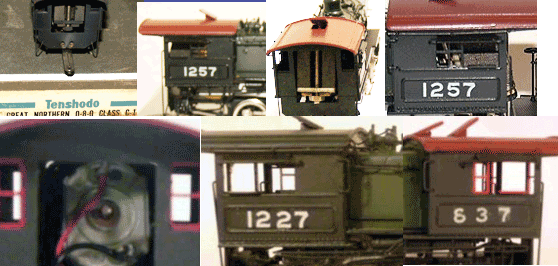 Many older models have had the original imported open frame motor replaced with a can motor. Besides being much more efficient and DCC friendly, the appearance is greatly improved. Note in these pictures the huge open frame motor magnet in the cab vs the open cab with a can motor installed.
For more pictures and info on an item click on the icon. Items marked as not ready for sale yet, means I haven't yet taken the pictures or the model needs some attention before being offered for sale.
GN LOCOMOTIVE MODELS
Brass Guide #
Click Photo for more pictures & info
Class
Wheel

Importer

DESCRIPTION

Grade

PRICE

BG-22839
A-9
0-6-0
Westside
Dual Pump version

350

sold

A-9
0-6-0
Scratch built
Started as Japanese import Belpaire firebox added
300

sold

B-22
4-4-0
Scratch built
Open frame motor needs further detailing. Runs OK but fast
275

BG-22847

C-1
Unpainted, unused, I am original purchaser Unpainted, never used, purchased new

0-8-0

PFM/Tenshodo

Painted green boiler; red roof # 837; Drilled for headlight. New Can Motor 15 X 25

350

BG-22848

C-1

0-8-0

PFM/Tenshodo
Painted green boiler; black roof # 839; New Can Motor 15X25 Drilled for headlight.

350

Sold

C-4

0-8-0

Oriental Limited

Great paint job Green Boiler # 784 Can motor NWSL 36:1 Gear Box Runs well but slow
350
Sold
D-5
2-6-0
Sunset
Unpainted, a great little runner.
350
Sold
E-6
4-6-0
PFM/United

925 Custom paint,

Sweet runner, headlight, open frame motor, quiet

450
BG-23029
E-15

4-6-0

Overland
1078 Can Motor, Headlight runs good

400

BG-23029
E-15

4-6-0

Overland
1089 Can Motor, NWSL 28:1 GB headlight disconnected

400

BG-22862
F-1
2-8-0
Sunset

527 great runner, can motor

Correct tender but not the one imported by sunset.

350
Sold
F-8
2-8-0
Tenshodo
1227 Runs very well Can motor NWSL 36:1 Idler Gear Box Tender light works HL disconnected
350
BG-228567
Pictures coming soon
F-8
2-8-0
Tenshodo

Not ready for sale yet

BG-23054

sold

G-3
4-8-0
PFM/United
#748 Great GP custom paint job, very light weathering
400
BG-23039
H-4
4-6-2
WSM
Mint, unused

300

BG-23041
H-5
4-6-2
PFM/United
1369 Runs well Removed PFM sound; New tube New Sagami 16 X 30 Can Motor

400

BG-23041
H-5
4-6-2
PFM/United
1377 New tube New Can Motor 15X 25 Runs great H/L disconnected

400

Sold
H-7
4-6-2
WSM
1384 Smooth runner, can motor, headlight, painted great weathering
500
Sold
K-1

4-4-2

Custom Brass
Painted green boiler black roof # 1707 Can motor, head light,

400

BG-22972
M-2
2-6-8-0
Oriental Limited

Slant cab, oil burner. #1981

Mint condition and rare

1200
BG-22970

sold

M-2
2-6-8-0
PFM/Tenshodo
#1980 Factory GP paint, noisy Tenshodo gearbox

750

BG-22985

sold

N-3
2-8-8-0
PFM/Tenshodo
#2021 Factory GP paint, noisy Tenshodo gearbox

1500

BG-22985
N-3
2-8-8-0
Westside
#2005 great GP custom paint, can motor & has head light Runs well and quiet

850

BG-22880
O-1
2-8-2
Sunset
3051 has replacement Can motor, runs well, headlight; red roof ; Q-1 style tender

500

BG-22880
O-1
2-8-2
Sunset
3137 has replacement Can motor, slight hitch headlight; black roof ; H-5 style tender. Re detailed and dome moved.

500

n/l

O-3

2-8-2

Oriental Limited
Diecast boiler
175
BG-22887
O-4
2-8-2
Sunset
3212 runs very well w/ can motor; fine slow speed; H/L not connected; Correct O-4 Tender

500

SOLD
O-8
2-8-2
Sunset
3390 Open cab; Headlight; can motor runs very well; black roof
500
SOLD
O-8
2-8-2
Sunset
3399 Closed cab Headlight, can motor runs very well red roof
500
Sold
P-2

4-8-2

Westside

Painted 2510 Glacier Park unused, I am original purchaser slight flaw in Smoke box graphite paint

500
BG-23057
P-2

4-8-2

Westside

MINT Unpainted, unused, I am original purchaser

10.0

475

Sold
P-2

4-8-2

PFM/Tenshodo
2524 has replacement can motor, runs well, headlight; custom painted - Green boiler, black roof; 1972 run
475
Sold
Q-1
2-10-2
PFM/Tenshodo

2104 has replacement Can motor, runs well, headlight; custom painted - black roof ; 1972 run

550
BG-23953
Q-2
2-10-2
Sunset
Sunset Runs well, can motor, runs good, headlight

550

SOLD
R-2
2-8-8-2
Tenshodo

2055 also comes with uninstalled NWSL gearboxes and powerful Sagami motor

1200

BG-23080
Pictures coming soon
S-1
4-8-4
PFM/Tenshodo

Not ready for sale yet

SOLD
S-1

4-8-4

PFM/Tenshodo
2551 Tenshodo Runs smooth & quiet runner: Has new Sagami 22 X 40 can motor with original gear box
450
BG-23100

S-2

4-8-4

Westside

Painted 2586 Glacier Park unused, I am original purchaser

500

Sold

S-2

4-8-4

Westside

MINT Unpainted, unused, I am original purchaser

10.0
475
BG 23097
Pictures coming soon
S-2
4-8-4
Tenshodo

Not ready for sale yet

Sold
Z-1
1+D+1
Nickel Plate /KTM
Painted #5001 + 5003 Pair, one powered, Runs good but a bit stiff because it hasn't been run in 30 years. White lettering

550

Sold
Y-1
1+C+C+1
PFM/Tenshodo
#5012 Runs fine ; paint good. White lettering not yellow
625