home gnus boomer boneyard links trackplan recent layout pix
25' Cabooses Rugby Museum 25' Interiors 30' Wood Cabooses Various 30' Steel Cabooses

25' Cabooses
| | |
| --- | --- |
| This picture of the X-579 was taken at Laurier Washington on the Kettle Falls branch c.1930. It and X 739, to the right, show the original configuration. Both have smaller cupola windows, curved railings at the ladder tops, and arch bar trucks. | Trains Inc. imported an HO model of this caboose about 1969 with a list price of $16.95. I had four but sold them all when I switched to O gage.< |
| X-611 and X-496, to the right, are rebuilt versions. They sport double cupola windows, newer leaf spring trucks, revised square hand rails at the top of the ladders. Date and location of both pictures is unknown. | These rebuilt cabooses sport different versions of the side facing herald introduced in 1936. The circle around the goat on X-611 reads See America First - Glacier National Park while the outer circle on X-496 reads Great Northern Railway. Both have striped side hand rails. |
| Date and location unknown. But judging by the lettering and the B&M box car in the background, it is s sure bet this picture was snapped in the mid sixties or later. Note these cabooses had three windows on one side and four on the other. | X-1 was assigned to the Pacific Coast Railway in Western Washington. It is shown in 1958 when GN assumed operations of the PCR. |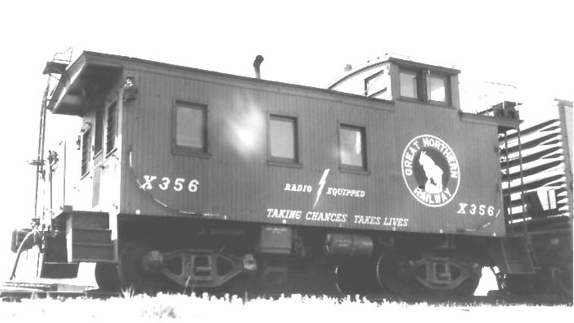 GN -X356, wood sheathed caboose seen at Burlington, Washington 1957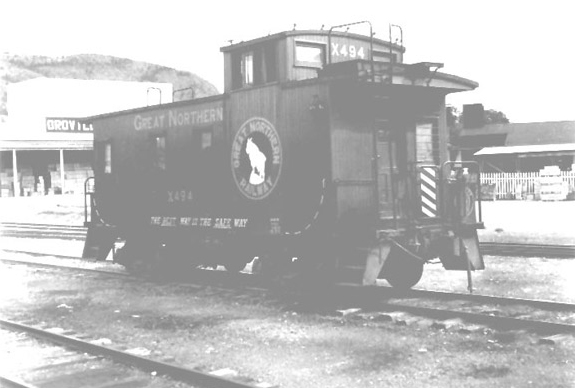 GN X-494, wood sheathed caboose vermillion red with black roof seen at Oroville, Washington 1962
These eight pictures of the X-415 were taken this August (2006) at the Rugby ND museum by my good friend Charlie Morrill. Since I'm in the process of detailing a couple of my cabooses I found them very useful. I hope you may find these pictures useful in detailing the interiors of your cabooses.
As luck would have it, it, as soon as I bought a brass model of this hack, NWSL has released a gorgeous resin kit of the same caboose for less than 20% of what I paid. See The NWSL for the announcement.
The interior is painted the GN 'pearl gray' with box car red floors. The BC red extends up the side about a foot. The seat pads are black leather.
Since it will be inside the car and not subject to close inspection, just a general representation of the interior is need and should be easy to fabricate from styrene and brass shapes.
Dinner Is Served !

This picture from a magazine article shows the interior of X-220 in the 50's. Note the paneling is varnished wood not painted, but the floor is still mineral red.

Various Steel 30' Cabooses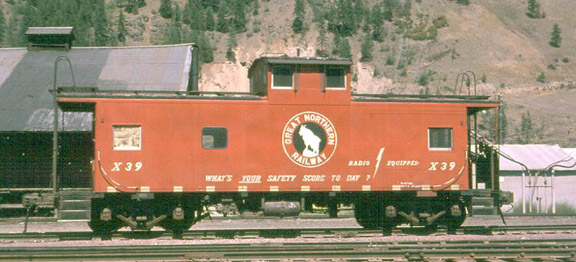 GN X-39 is a Morrison International 30' caboose and for GN a different design with a centered cupola. It is seen at Cashmere, Washington.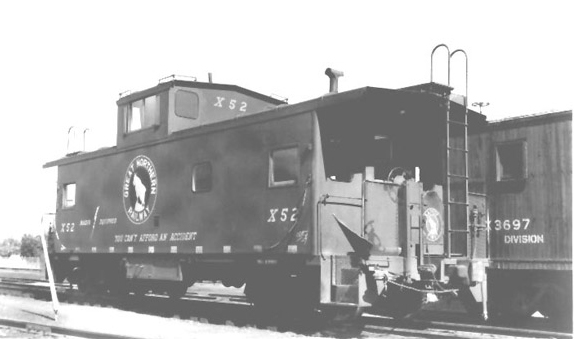 Morrison International 30' steel caboose seen at Great Falls in 1968.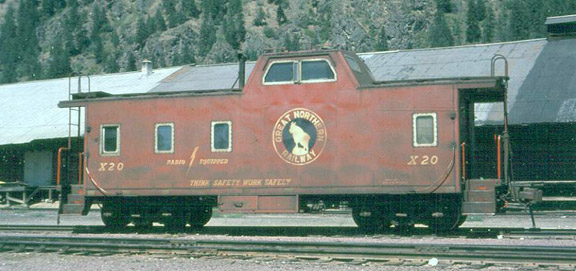 GN X-39 is a sloped cupola caboose. It is seen at Cashmere, Washington.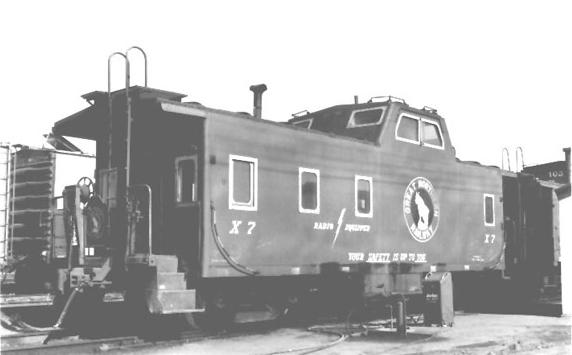 GN X-7 is seen here at Wenatchee, WA in 1968.

GN X-325 was a transfer caboose built from an F unit by GN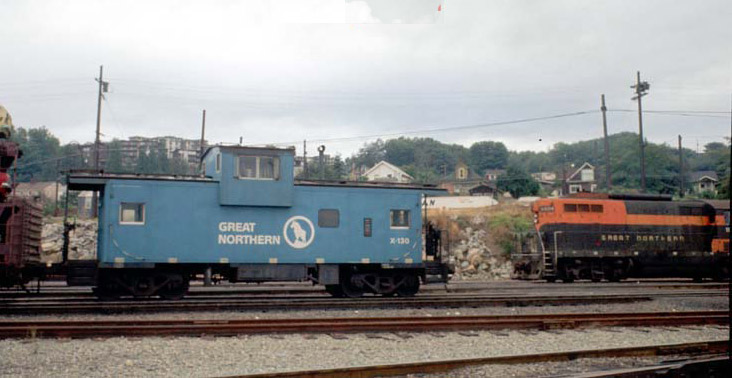 Interbay (Seattle) 1969.
---
Home New About Me Layout Articles Artwork friends Links