October 2006 Progress Pictures.
Most of the recent work on the pike has been wiring, aligning track work, etc. This stuff does not show up in pictures but is necessary for next month's Open House. The line to Fidalgo has been completed but only a few pictures are availble so far. M-2 1967 and G-3 748 have just been painted. Both saw service on the Kettle Falls branch.
Action on the Mainline and Fidalgo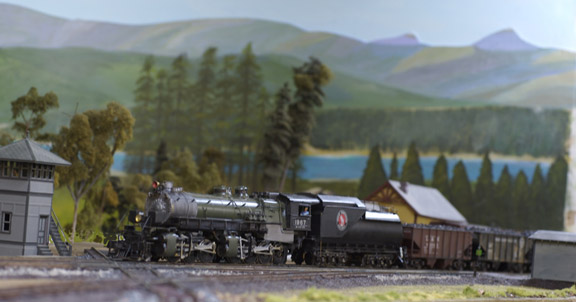 Extra 1967 West, a drag freight, is about to cross the fabled Cascade Northern Railway.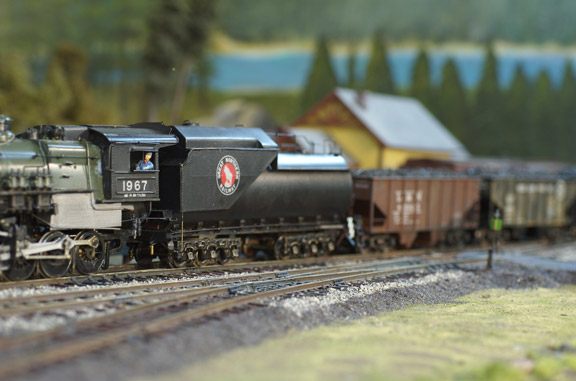 Extra 1967 is a low priority drag freight consisting of coal and gravel loads and empties.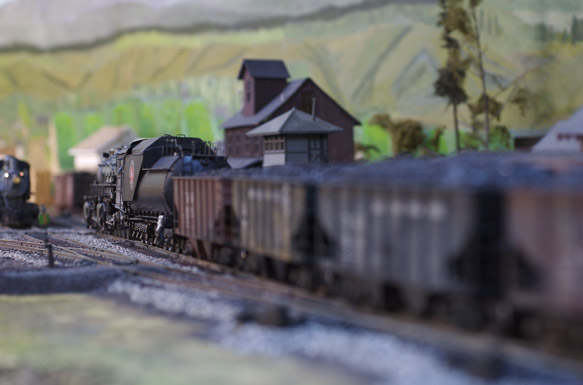 Extra 748 is seen in the distance.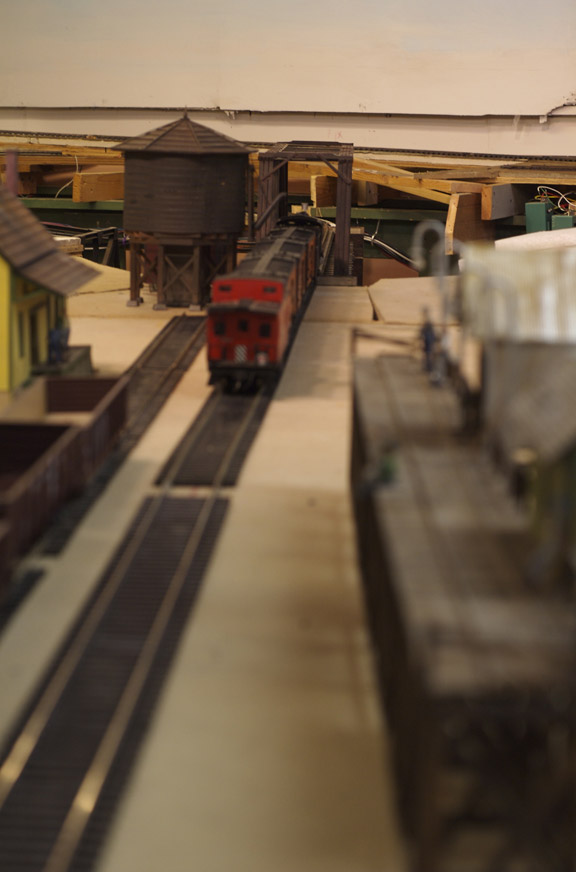 Extra 927 is the first train from Fidalgo. Much still need to be done and the code 148 flextrack will be replaced with code 125 hand-layed trackwork. I also plan to operate the town for a while to be sure I'm satisfied with the track arrangement.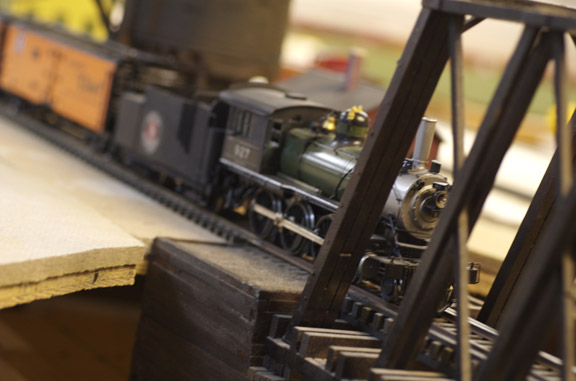 Extra 927 east is hustling three reefers of Calif produce towards Montana. The reefers are fresh off the barge dock. The 927 is a PFM import with ancient PFM sound. Those gorgeous reefers are Pecos River imports. Sharper pictures will be posted next time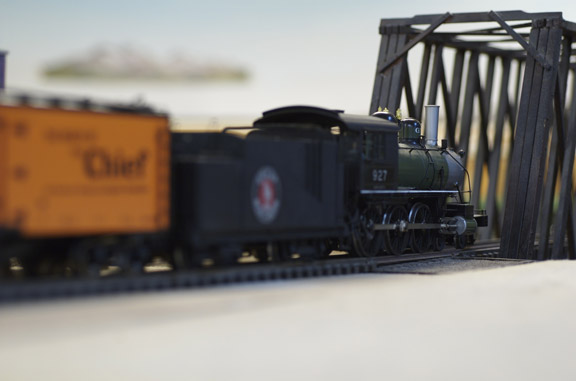 The 927 is about to cross the Howe truss bridge.
The freashly painted model of G-3 748. The loco was built for me by Bud Jaggers about 1991. It looked fine was but not the best runner. I gave it Doug Cockerham to rebuild the drive. It came back running batter than I had ever hoped. I finally got around to adding more details, including a backhead, and painting it this summer. When they become available, she'll recieve a high amp Tsunami decode but for now she operates with PFM sound.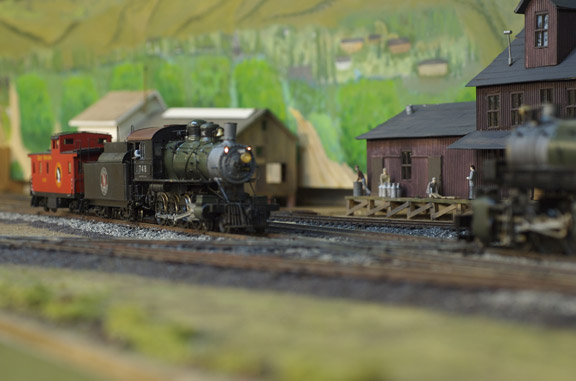 Extra 748 East, a caboose hop, meets X-1967 West.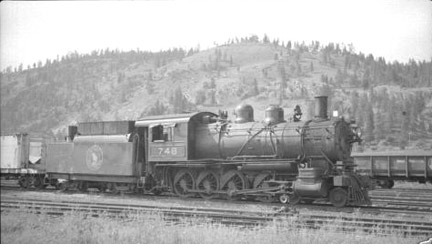 The real GN 748 quietly simmers in the Kettle falls yard. The year is 1949 and she's four years away from the scrapper.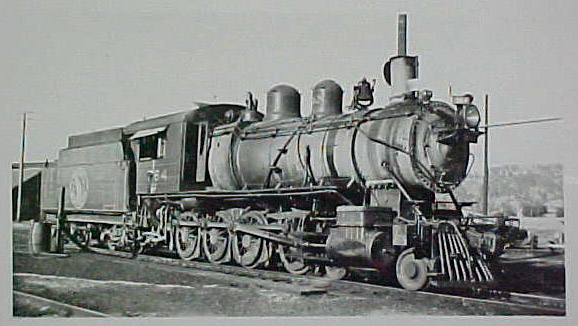 GN 764 is ready for anther assignment at Hillyards. Perhaps to Kettle Falls.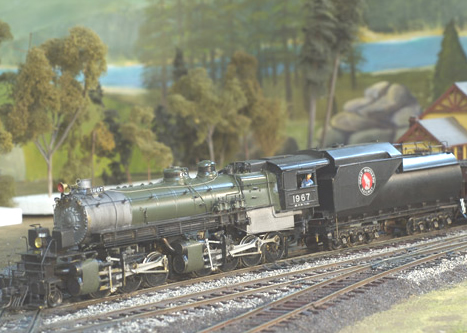 The freshly painted model of M-2 1967. Like the 748, this loco was also built for me by Bud Jaggers about 1991. It looked fine was was not the best runner. Again I gave it Doug Cockerham to rebuild the drive. It came back running better than I thought possible. I've temorarily put PFM sound it her but a Tsunami or a new Phoenix Sound P5 board is in her future.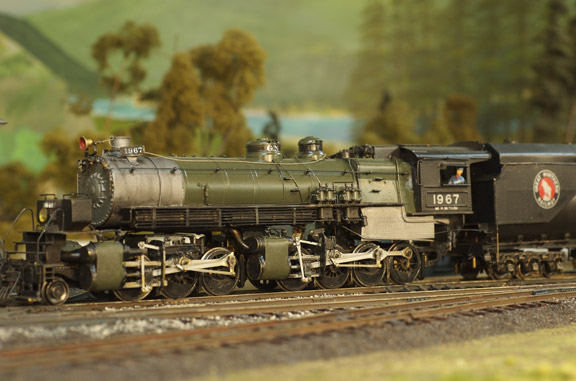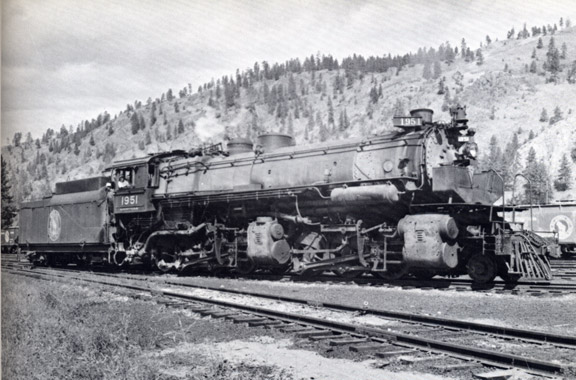 M-2 1951 is passing the west leg of the wye at Kettle Falls in 1947. Kettle Falls had no turntable and the wye, located on the southside of the yard, was used to turn steam locomotives. Kettle Falls was built after the town of Marcus was premanently flooded as part of a Columbia River dam project. As built, it was at the junction of GN three lines; one to the mainline and Spokane, a second to Nelson B.C via Northport,Wash, and a third to Republic Wash. via Grand Forks, B.C. Besides forest products, the branch carried considerable amounts of gravel as evidenced by the hoppers in the background.

1981 has a tender similar to the 1967. Date and location unknown.
---
Home New About Me Layout Articles Artwork friends Links