The Previous Model Railway
1987 - 1994

The Original Texas Pike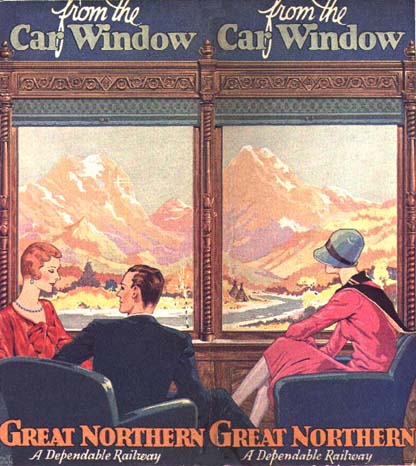 The first layout, from 1987 to 1995 was basically a double track loop with only one town modeled. All bench work was brought from Seattle where it had been used on an earlier layout. The mainline and holding tracks featured code 148 flex track with Old Pullman switches. Yard and secondary tracks were hand-laid code 125. Some industrial sidings were even laid with code 100 rail. All switches were powered with Tortoise switch machines. Scenery was Hydrocal covered with a mixture of ground foam and dirt imported from the Northwest. Three mainline cabs combined Aristo-craft throttles and PFM sound units. The engine terminal and switching areas had separate local cabs. Started in 1987, it was up and running for the 1989 NMRA convention in Houston. This layout emphasized passenger operations. Since the GN switched most passengers trains at Spokane, Washington, it was chosen as the location for the model railway, although no attempt was made to duplicate GN's actual Spokane trackage. The layout featured a depot with several setout tracks, a freight yard with reefer and stock car servicing facilities, a large engine terminal, and several local switching locations. The original layout had eight hidden holding tracks from which trains were dispatched. Leaving the holding tracks, the mainline followed the line around the outside wall where the scenery would depict the Idaho panhandle. Then, it passed a switching area named Fort Wright, entered the depot area and continued to the freight yard, called Hillyard. It then passed a switching area called Cannery Row and passed Nippy Hollow before re-entering the hidden holding tracks. The seeds of this layout's demise were planted in the holding yards design. All turnouts were separately thrown and power could be assigned to several tracks at the same time. As a result of the design, there were several 'snafus' and crumpled crummy platforms.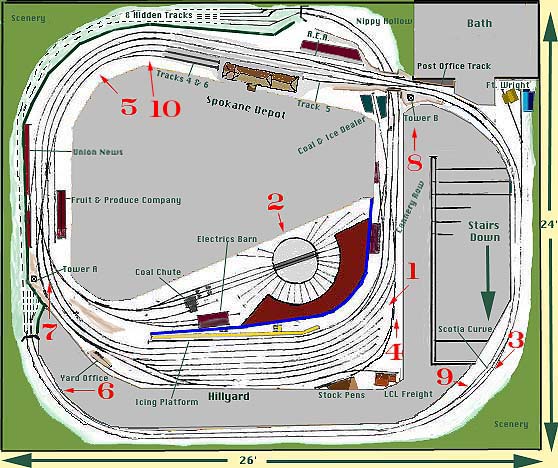 This plan of the Empire Division, was made when Adobe Photoshop was my new toy and buffonery was in style. Rather than presenting a layout featuring trains passing grease stained pizza boxes masquerading as buildings, I enhanced the images with pictures from along GN's right of way. In keeping with the then latest technology the plan was digitally scanned from the original blueprint.
The numbers correspond to hot-linked photographs of trains running in that location of the layout.
1. Mallets 2055 and 2003 pass at the west end of the layout.
2. H-4 Pacific on the turntable.
3. Passengers enjoying the peaks of Glacier National Park.
4. S-2 Northern 2581 at Rock Island.
5. H-4 Pacific heads for the depot.
6. L-1 mallet 1909 leads a drag on the east end.
7. L-1 mallet meets the inbound Cascadian.
8. O-1 3142 at Nippy Hollow.
9. Westbound passengers approach Glacier National Park.
10. 0-8 3391 leads a manifest under an overpass near Spokane
The Electric Division