BACKGROUND
Jas. J.Hill, the Empire Builder, always sought to balance traffic over his railway system. Hill acquired the line to the Gulf with the acquisition of the CB&Q in 1901. He believed coal, minerals, livestock and agricultural produce from Texas and Colorado could be exchanged for imports from the orient and timber and other products available from the Pacific Northwest. The C&S and FW&D lines provided routes from Cheyenne and Denver south to the Texas cities of Forth Worth, Dallas and the Gulf ports of Houston and Galveston. With a link from Cheyenne to Billings, Hill would have a tidewater to tidewater line from Puget Sound to the Gulf. Hill sent his oldest son James to survey the lines and arrange the purchase the C&S and FW&D lines. CB&Q purchased a seventy percent interest in both lines in 1908.
| | |
| --- | --- |
| A sight to please even the Jas.J.Hill, a long string of laden boxcars heading up Walton Hill in 1910 | A year later, construction began extending the Billings-Kirby branch southward through the Wind River Canyon to a connection with the C&S east of Casper WY. With a link from Cheyenne to Billings Montana, Hill had a tidewater to tidewater line from Puget Sound to the Gulf of Mexico and a diagonal transcontinental line through America. The Mossmain line was started in 1908 and competed in 1909, linking GN to the line to Texas. The line also connected the Northwest to Kansas City and St Louis. The line proved very successful until the Hepburn (Panama Canal) Act of 1914 which prohibited the carriage of merchandise and materials between the Pacific and Gulf.. Hill was quote saying that more freight was carried on this axis than east west by 1914. |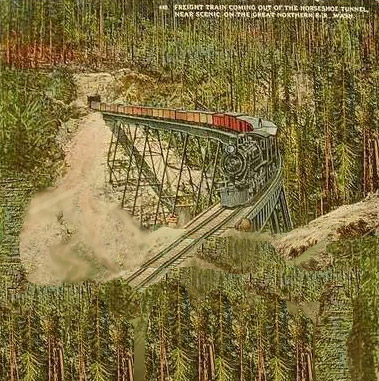 A freight crossing Martin's Creek after exiting the Horseshoe tunnel.
| | |
| --- | --- |
| From first week of June until the third week of October, 1909, Seattle hosted a World's Fair known as The Alaskan-Yukon-Pacific Exhibition which drew four million visitors. Hill actively supported the fair and spoke at the opening ceremony on June first. | |
In May 1909, as the Alaska-Yukon-Pacific Exposition opened, GN began offering joint through service with the CB&Q to reach eastern and southern populated areas. The Oriental Limited's route was extended to Chicago over the rails of the CB&Q from St. Paul. Its companion train, The Fast Mail, continued to only operate between Stalle and St. Paul, where connections over the CB&Q were available. A third transcontinental train entered service in May 23, 1909, in time for the Alaska-Pacific-Yukon Exhibition, running between Seattle and Kansas City via Shelby, Great Falls and Billings. Trains 43 & 44 operated as a joint GN/CB&Q train between Seattle and Kansas City with connections to St Louis and Denver. The train to the Missouri Valley was initially called the Northwest Express westbound and The Southeast Express eastbound. The westbound's name was changed to The Great Northern Express in November, 1909.
Schedule:

| | | | | |
| --- | --- | --- | --- | --- |
| Official | Guide | June 1909 | | |
| | Westbound | | Eastbound | |
| | Train #43 | | Train #44 | |
| (Sun) | Lv 6:05 PM | Kansas City | Ar: 8:15 AM | (Thur) |
| (Wed) | Ar 10:50 PM | Seattle | Lv: 10:00 PM | (Sun) |

Route

| | |
| --- | --- |
| CB&Q | Kansas City to Billings, |
| | Connection service to St. Louis, Omaha, & Denver |
| GN | Billings Great Falls, Shelby, Spokane, Seattle |
| Milage | 2152 |
| | |

Consist

Kansas City - Seattle
Baggage-mail-express car, reclining coaches, tourist sleeping car, smoking car, dining car, standard sleepers,

GN's 1913 timetable covers feature the three transcontinental trains.

Motive Power
The Great Northern Express, as well as the Oriental Limited and Oregonian, benefited from eighty-five passenger locomotives received in 1909. The order consisted of twenty class H-4 Pacifics with 35,690# TE; forty-five class E-14 Ten-wheelers with 38,580#TE; and twenty class E-15 Ten-wheelers with 29,190#TE. All were fitted with 73" drivers. 45 E-14 heavy Pacifics, numbers 1008-1052, were received in November and were the heaviest ten-wheelers ever owned by the Great Northern. Class F-4 through F-8 Consolidations continued be used as helpers over Marias and Stevens Pass.
In 1909, the Great Northern Express between Billings and Seattle, needed locomotive changes at Great Falls, Cut Bank, Whitefish, Troy, Spokane, Wilson Creek and Leavenworth.

Passenger Equipment
The new Great Northern Express carried a 70' RPO-baggage car, a 68' baggage-express car, a 86 passenger day coach, a smoking car, a 30 seat dining car, a 14 section tourist sleeper, a 12-1 standard sleeper (both pullman) and between Kansas City and Seattle. Along the way number 43 picked up a Sleeping car from Denver at Alliance, on the CB&Q and dropped it at Billings. The sleeper traveled east on train 44. Connection service was provided to St. Louis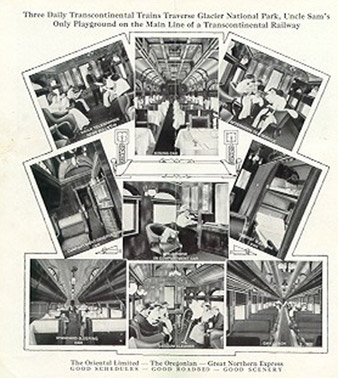 Headend

In the headend the Great Northern Express carried a RPO/bag car, and a Baggage & Express car. The wood sheathed cars had closed ends, 6 wheel trucks, gas lights and were lettered Great Northern with a square Great Northern Express Company herald on the sides.


The growing Northwest was generating express traffic for eastern markets. Express reefers were often carried eastbound laden with fresh fruit, produce and Alaskan salmon.
.

Smoker
GN listed second class coaches as smokers in its time tables. Older 70' cars were assigned to #43 & 44. All were built by B&S, were 68' over the buffers, seated 71, had arch windows, truss rods and four wheel trucks.
First Class Coaches
As with the much of the consist, the equipment was originally assigned to the Oriental. Twenty were built by B&S in 1902, 80' over buffers, carried on six wheel trucks which accomadated 86 passengers. The coaches to be fitted with vestibules came from AC&F in 1899-1900. The order was for 14 70' first class cars, with body windows now arranged in pairs.

Tourist
Pullman furnished and operated

Diners

GN from Billings to Seattle; CBQ KC-Billings

First Class Sleepers
Pullman furnished and operated
Observations
Two of the original Pullman observations built in September, 1905 for the Oriental and Winnipeg Limiteds, were assigned to the Great Northern Express for summer use on GN railsbetween Billings and Seattle.
| | |
| --- | --- |
| Each contained four compartments, a drawing room, card room, a small buffet, called a kitchen, and a 15 seat observation room. The eighty foot Pullman built observations were ornately decorated in plush carpets, featured wide windows for better viewing of the scenery and an open platform.. Through Observation cars were first listed in the1914 timetable and to not appear to have been part of the 1909 through consist. | |
OPERATION
Three year old King Street was a busy location during the fair. The Chicago, Milwaukee, St Paul & Pacific was completed and began offering through service between Chicago and Seattle a week before fair opened. The Milwukee used King Street until next door Union Station was complete in 1911. The Northern Pacific ran a daily special train for fair between June and October. GN of course added its third Transcontinental train.
In 1909 the sleeping car service on the CB&Q was operated by Pullman. Although no entirely clear, several sources indicate the agreement regarding Pullman sleeping car service. Under the agreement, GN operated the Sleeping car service on the Oriental Limited between St Paul and Chicago over the rails of the CB&Q and Pullman was given the service on Trains 43 & 44 between Billings and Seattle over GN rails. The arrangement too effect May 23, 1909, the date the Oriental Limited began running through to Chicago.

As noted above, at Billings Great Northern added a observation. The diners were also switched, with each road operating its own diners.

This early version of To The Scenic Northwest was to promote the new Missouri Valley service as well as the established routes.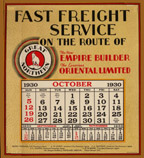 Click here for Articles Listing Page