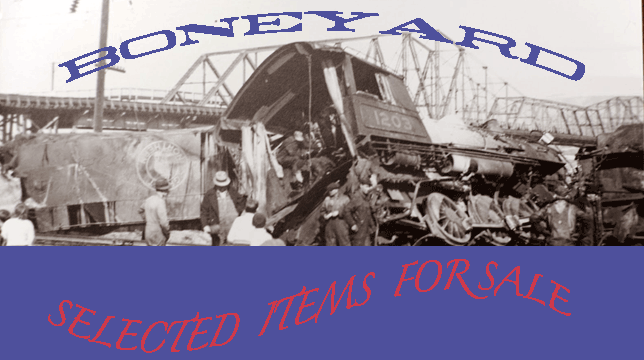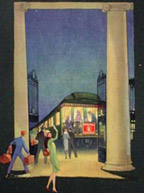 To purchase see below or click here
Books and Ephemera.
I have many items for sale but have not taken pictures yet because I've been doing HO first. Check back in two weeks or more.
Books

American Streamliners

by Mike Schafer & Joe Welsh

140 pages of color pictures and well written text covering Streamlined passenger trains. Has both train pictures and advertising materials. Includes a section on Empire Builder.

Condition: like new

Published by Andover Junction, 1997

15.00

Hear the Whistle Blow

by Lucius Beebe & Charles Clegg

This classic, long out of print, is a pictorial epic of america in the railroad age. this is wonderful collection of beebe's prose with ten original drawing and 860 illustrations. A must for anyone who enjoys trains and stories of railroading.

Published by E.P Dutton New York, 1952

75.00

Highball - a Pageant of Trains

Lucius Beebe

225 pages of pictures, drawings and prose. The book is a treat for any rail fan who appreciates the classic railway era. This is the Bonanza reprinting with the typical fuzzy pictures.

Originally Published by Appleton-Century- Crofts, Boston, 1945

This Bonanza reprint is undated

20

Great Northern Equipment Color Pictorial

Scott R. Thompson

Sold
20

Train Country

by Donald Mackay and Lorne Perry

An Illustrated History of Canadian National Railways. The railways history is traced from the railroads that formed the CNR until the present day. Most, if not all, aspects of North America's longest Railroad are covered. The book contains many nice photos. Soft cover 192 pages

Published by Hiemburger Publishing House, Forest Park, IL, 1995

15

From Summit to Sea

George Buck

An Illustrated History of railroads in British Columbia and Alberta. Primarily focused on the CPR and CNR, this historical work covers the period from construction until the Royal Visit of 1939. Well written text, many rare photos and interesting charts. Soft Cover, 202 pages

Published by Fifth House Limited, Calgary, 1997

15

Steam, Steel and Stars

Winston O. Link

A true classic of night time black and white images depicting the last years of steam on the Norfolk and Western Railroad. Link had the full cooperation of the N&W in setting up his shots. A wonderful book for any steam fan. Hard cover, 144 pages.

Published by Harry N. Abrams, New York, 1994

20

Great days of Canadian Steam

Wentworth Folkins

Wentworth Folkins grew up in rural Ontario in a railroad family. He was a renowned painter of steam locomotives. This work contains 50 watercolor images of Canadian steam engines at work across Canada. With each plate the artist provides a full page description of the scene. Each image is 6.5" X 9.5" or larger and suitable for framing.

Hard cover, 107 pages

Published by Hounslow Press, Willowdale Ontario, 1988

25

To purchase anything, please email me at boomer@kingwoodcable.com or write to me at the address below. Shipping is extra and the cost depends on carrier (purchaser's choice) if no carrier is specified I'll ship USPS (they are usually the best anyway). I will charge actual cost as I do not regard shipping and 'handling' as a profit center. All items subject to prior sale.
Your personal check is more than welcome. I will take Pay-pal after June 10. Most pricing is based on recent ebay auctions. If you find something that you feel is over priced, all serious offers warmly considered.
Please make checks payable to:
Theodore Doyle,
3307 Redwood Lodge Drive, Kingwood, Texas 77339-2504
Thanks,
Ted Doyle

Home New About Me Layout Articles Artwork friends Links